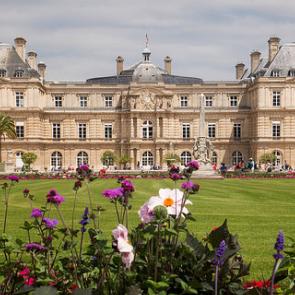 Le programme de langue française offre une variété d'options pour les étudiants SRJC avec des intérêts et des buts divers.
Why Study French?

French is the language of Montreal, Paris, Geneva, Strasbourg, Brussels, Casa Blanca, Dakar... Your knowledge of French opens wide the door to a rich experience of the world.

French culture continues to exercise an enormous influence in the arts of painting and sculpture, architecture, literature, music, cooking, fashion design, cartooning, and advertising. Your knowledge of French enhances the appreciation and rewards of the artistic realm.

French and American cultures are linked historically, philosophically, economically, and politically. Your knowledge of French increases your insight into your own society and its connections to the world.

French is a close cousin to English. Liberté, nation, magnifique, chic, encyclopédie, artiste... the vocabulary of the two languages is strikingly similar. Your knowledge of French increases your understanding of English; and your knowledge of English will make it easier for you to absorb French.

The Louvre, cinema, Edith Piaf, cathedrals, Voltaire, chateaux, Beaudelaire, Truffaut, Provence, Simone de Beauvoir, Quebec, restaurants, The Latin Quarter, The Bullet Train, medieval villages, Notre-Dame, the Alps... Why wouldn't you study French if you had the chance!

In addition to the traditional college-aged student for whom French holds an interest, we attract many Sonoma County adults whose personal travel plans, intellectual curiosity, and/or professional circumstances lead them to pursue a serious, well-conceived program of study.

1. Grammar-based courses or conversation-based courses

2. In both course types, we offer elementary to high intermediate level courses.

Visit Our Department!

We are located on the Santa Rosa Campus in Emeritus Hall 1525. We would be glad to answer questions and familiarize you with our program.

Contact for French Program:

Program Coordinator:  Todd Straus

COURSES

FREN 1 Elementary French-Part 1


FREN 2 Elementary French-Part 2


FREN 3 Intermediate French-Part 1


FREN 4 Intermediate French-Part 2


FREN 49 Independent Study in French


FREN 50A Conversation for Beginners-Part 1


FREN 50B Conversation for Beginners-Part 2


FREN 50C Intermediate Conversation


FREN 58 High Intermediate Conversation

 

FRENCH 1 CREDIT BY EXAM

Offered for French 1 only to currently enrolled students who comply with the restrictions and requirements.

Information & Registration:

Eligible students may earn 4 units of UC & CSU transferable credits for French 1 to fulfill degree requirements for transfer and/or AA degree by successfully completing the comprehensive test and earning a grade of C or higher. (A score of 70% is a passing grade for a student majoring in French.) A student who does not earn a passing grade the first time will be allowed to take the test once more.

      FALL 2019 Credit-by-Exam (CBE)

 

 Date, Time, Location:

Tuesday, Oct. 15  9:00 am -1:00 pm       Section #1949

Room 1525 Emeritus Hall 

Any student interested in taking the French 1 Exam must contact in advance French Program Coordinator,  Todd Straus for information and in order to secure an "add" code.

Important Restrictions to Note:

Students will not be allowed to take the test if they have taken, or are currently enrolled in a higher level French class.                  
HS students must be enrolled in another SRJC class to be able to take the CBE for French 1.

Units for which credit is given pursuant to this policy shall not be counted in determining the 12 semester hours of credit in residence required for the associate degree (Title 5, 55050 (g)).

Units earned through credit by exam are not considered for Financial Aid, Scholarship or Veteran Services eligibility and payments.

Please contact a SRJC counselor for additional information about class requirements and eligibility to take the CBE.